---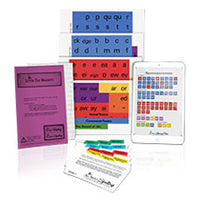 All About Spelling Basic Interactive Ki
t
This is a one-time purchase, and the components will be used throughout the entire All About Spelling series.

The All About Spelling program is multisensory, and the Spelling Interactive Kit contains components that enable your child to learn through sight, sound, and touch. All items in the Basic Spelling Interactive Kit are non-consumable and reusable.

The following items are included in the Basic Spelling Interactive Kit:

Letter Tiles
Magnets for Letter Tiles
Spelling Divider Cards
Please note: If you already have a Reading Interactive Kit from the All About Reading program, you only need to purchase the Spelling Divider Cards to complete your Spelling Interactive Kit.

You may also wish to add the Spelling Review Box to your order to store and organize the flashcards from the All About Spelling program. 
Book Author = Marie Rippel
Book Material = Kit
Age Level = All
Book Publisher = All About Learning
Book Series = All About Spelling
Condition = New



Item Number:
20-9
Item ID:
1457
Category:
Interactive Kits