---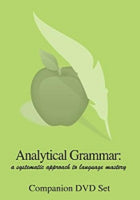 Analytical Grammar Companion DVD Set
Our teaching DVDs are for those of you who would like a little more support in introducing each unit. Perhaps you feel that grammar just isn't "your thing." Maybe you have a lively family of children and would really rather hand those teaching duties off to us. Or maybe you just like the idea of sitting down with your student and learning from our videos as he or she does. Whatever the reason, we think you'll find these videos instructive and enjoyable.

Both Erin Karl and Robin Finley were former middle-school classroom teachers, so we really enjoyed the opportunity to "get back in the saddle" and present these lessons, along with all the little tricks we learned over the years, to new Analytical Grammar students.

Each segment consists of either Robin or Erin presenting the new concept. We get the student started with the first couple of sentences of an exercise and go over the answers. Next we ask the student to "pause" us so he or she can do the next sentence. When we're no longer "paused," we go over those answers. By then the student is ready to finish the unit on his or her own.

The companion for Analytical Grammar is a set of four DVDs. The companions for Jr. AG and Jr. AG: Mechanics EACH have a two DVDs. 
Age Level = 12 and up
Book Author = Robin Finley
Book Publisher = Analytical Grammar
Copyright = c1996
Grade Level = 6 and up



Item Number:
330-1
Item ID:
2781
Category:
DVDS