---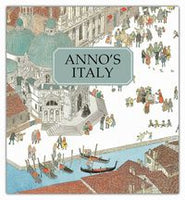 Sale
Anno's Italy (picture book)
Those who travel through Italy with Anno will discover countless delights of art, architecture, and literature. Every lavish spread is a scene filled with wonder and imagination.

A bit of what's inside: An homage to the Biblical story of Christ is seen through the works of Renaissance masters like Fra Angelico, Michelangelo, and Leonardo da Vinci. Michelangelo's David and Pieta are depicted in teeming scenes with Charlie Chaplin, Sophia Loren, and James Dean. All this is set against the backdrop of some of the world's most magnificent architectural structures - Brunelleschi's Duomo, the Ponte Vecchio, the Rialto Bridge, and the Trevi Fountain.

In addition to the beautiful scenes, the author has included notes in the back of the book that explain his journey and much of the detail in each scene, while still allowing the reader to discover things on their own. These notes draw out the various features of each scene which helps to teach the reader about Italian history and culture. 
Age Level = Early Elementary
Book Author = Mitsumasa
Book Material = Paperback
Book Publisher = Beautiful Feet Bks
Book Series = ATW Part 2
Copyright = c2018
Grade Level = Primary - Intermediate



Item Number:
55-51
Item ID:
21477
Category:
Italy