---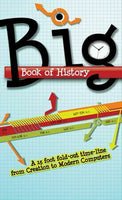 Sale
Big Book of History
For Ages 9-11

A Big look at history for young learners!

The Big Book of History is the perfect way to engage your child in an adventurous trip through time –from the first Day of Creation to present day!

Designed to share the most details in a colorful collection of important facts and interesting photos, it can be an effective educational resource or enjoyed just for fun! 
Age Level = 4 and up
Book Material = Hardback
Book Publisher = Master Books
Copyright = c2011
Edition = 2017
Grade Level = All



Item Number:
29-48
Item ID:
9018
Category:
Big Book of History