---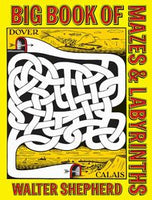 Sale
Big Book of Mazes and Labyrinths
In labyrinths and mazes the path least traveled does make all the difference — but you will also find yourself bridge crossing, escaping from caves, lighting firecrackers, untangling snakes, ringing bells, visiting country taverns, spelling out passwords, and solving a host of other unique problems in Walter Shepherd's fascinating takeoffs on one of the world's oldest intellectual stimulations.
There are 50 new puzzles in this book. There are crime names and Christmas mazes, country mazes and city mazes, mazes for all skills and mazes for all seasons of the year. There are even mazes that are games you can play over and over again. Each maze has a story to go with it and often a set of hints and complications. The illustrations are all printed in large size (perfect for framing or creating in craft or needlework for even more amazing fun). Some are classical mazes: others are solid mazes, ripple mazes, short-path labyrinths, avoidance labyrinths, mazes in which you have to visit all rooms and mazes that test your skill in countless other ways. Also included is an introduction to the history of mazes and a special section on maze solving. If somehow you don't get one of the mazes or feel you have to test your own conclusions, a solutions section in the back gives full information.
Walter Shepherd has made another significant contribution to cerebral recreations in this volume. You will find hours of pleasure and hours of delightful torture when you show them to friends. Both young and old will have fun solving these puzzles.
Dover Original. 
Age Level = 8 and up
Book Material = Paperback
Copyright = c1989
Book Publisher = Dover Publications
Edition = 2003



Item Number:
365-46
Item ID:
17928
Category:
Maze