---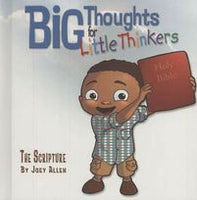 Sale
Big Thoughts for Little Thinkers: The Scripture
Even the youngest believers need a solid grasp of Christian doctrine just as much as adults do. The most foundational teachings of the Christian faith are presented in the Big Thoughts for Little Thinkers series on a level that preschool and elementary school-age children can understand.

The Scripture educates children about how the Word of God is true, inspired, and reliable and will lead them to God and a life of godliness. This book is a tool that ensures youngsters turn to the Bible to find wisdom that leads to salvation, guidance for everyday living, and hope for the future.

In simple but precise language, the book teaches God-centered theology. Featuring charming illustrations, The Scripture makes for a fun but educational read. 
Part of a series of age-appropriate books that teach small children about essential Christian theology
Provides children a firm foundation in God's timeless truth
Works well as a text for homeschooling, Sunday schools, Christian schools, or family devotional time
Age Level = 5 and up
Book Author = Joey Allen
Book Material = Hardback
Book Publisher = New Leaf Press
Book Series = Big Thoughts
Copyright = c2005
Edition = 2013
Grade Level = Elementary



Item Number:
29-43
Item ID:
9002
Category:
Big Thoughts: Scripture