---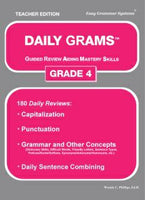 Daily Grams Grade 4 Teacher Edition 
The purpose of Daily GRAMS: GUIDED REVIEW AIDING MASTERY SKILLS -
GRADE 4 is to provide students with daily review of their language. Review of
concepts helps to promote mastery learning.
This particular text offers more "teaching" than some Daily GRAMS books. However,
this text is not a teaching text; it has been specifically designed for review. As in other
Daily GRAMS texts, concepts are usually repeated within twenty-five to thirty days. 
Age Level = 9 and up
Book Author = Wanda C. Phillips
Book Material = Paperback
Book Publisher = Easy Grammar Systems
Book Series = Daily Grams
Copyright = c2002
Grade Level = 4
Condition = New



Item Number:
10-45
Item ID:
34479
Category:
Daily Grams