---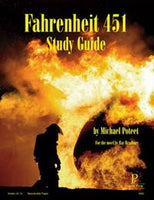 Sale
Fahrenheit 451 Study Guide
Guy Montag, a fireman of the future, is responsible for starting fires, not stopping them. In his society, books have been banned - all books, save the firemen's own rule books, which contain the ominous order: "Burn everything." Books are only filled with confusing and contradictory ideas, and it is more important to have fun and to be entertained.

He finds pleasure in his job until one autumn evening when a teenage neighbor, Clarisse McClellan, asks him a simple, haunting question: "Are you happy?" When an old woman refuses to leave her books and dies in the flames, he wonders, what in her books inspires such passion? He determines to discover it for himself, though his rebellion, and his confusion, may cost him his life.

A good examination of censorship and our responsibility to understand.

Content Warning: Inappropriate language.

Through Ray Bradbury's challenging novel of censorship and reality, Fahrenheit 451, students will learn:

Author Biography: Learn about Ray Bradbury.

Vocabulary words used throughout the novel, utilizing a variety of activities to stimulate retention and growth.

Literary Techniques: In context, dictionary, simile, metaphor, setting, characterization, foil, allusion, intertextuality, paraphrase, symbolism, tone, dramatic structure, motif, tripartite structure, dynamic vs. static.

Moral Lessons and Character Values: Happiness, isolation, martyrs, dehumanization, swearing, mentors, Holy Spirit, the Bible, helping the disenfranchised, foolishness, death, legacy, war, memory.

Activities and Writing Assignments: Banned books, field trip, research papers, current issues, technological change, class discussions, art project, drama.

Suggestions for Further Reading:  We include an in-depth reading list of more books by the same author(s) and other books and movies that tie in with, or are similar to, Fahrenheit 451 by Ray Bradbury.

All of the unit lessons are written from a Christian perspective! 
Age Level = High School
Book Author = Michael Poteet
Book Material = Paperback
Book Publisher = Progeny Press
Copyright = c2005
Grade Level = 9-up
Condition = New



Item Number:
453-53
Item ID:
36258
Category:
Progeny Press