---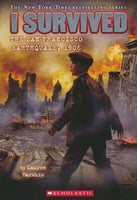 I Survived The San Francisco Earthquake, 1906
A city on the rise- suddenly falls.
Leo loves being a newsboy in San Francisco- he needs the money, but the job also gives him the freedom to explore the amazing hilly city as it grows with the new century. Horse-drawn carriages share the streets with shiny automobiles, businesses and families move in every day from everywhere, and anything seems possible.
But early one spring morning, everything changes. Leo's world is shaken- literally- and he finds himself stranded in the middle of San Francisco as it crumbles and burns to the ground. Can Leo survive this devastating disaster?
When disaster strikes, heroes are made.
Age Level = 8 and up
Book Author = Lauren Tarshis
Book Material = Paperback
Book Publisher = Scholastic
Book Series = I Survived
Copyright = c2012
Grade Level = 3 and up



Item Number:
36-209
Item ID:
23705
Category:
I Survived