---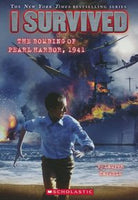 I Survived The Bombing of Pearl Harbor, 1941
A day no one will ever forget...
Ever since Danny's mom moved him to Hawaii, away from the dangerous streets of New York City, Danny has been planning to go back. He's not afraid of the crime or the dark alleys. And he's not afraid to stow away on the next ship out of Pearl Harbor.
But that morning, the skies fill with fighter planes. Bombs pound the harbor. Bullets rain down on the beaches. Danny is shocked- and, for the first time, he is truly afraid. He's a tough city kid. But can Danny survive the day that will live in infamy?
When disaster strikes, heroes are made.
Age Level = 8 and up
Book Author = Lauren Tarshis
Book Material = Paperback
Book Publisher = Scholastic
Book Series = I Survived
Copyright = c2011
Grade Level = 3 and up



Item Number:
36-214
Item ID:
23710
Category:
I Survived