---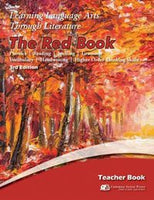 LLATL: The Red Book Teacher Book 3rd

The Learning Language Arts through Literature program is a complete language arts program for Grades 1-12. Using an integrated approach to teaching, students learn communication skills in the context of quality literature that makes not only makes reading more attractive, but creates a deeper understanding of grammar, writing mechanics, vocabulary, spelling, and other language skills.
The Red Book is designed for students in 2nd grade and continues the phonics instruction began in the Blue Book level. Students will enjoy the stories in the readers and use them to learn grammar, creative writing, higher-order thinking skills, and much more. This Teacher's Book provides parents with weekly, easy-to-use lessons that require little to no preparation. Lessons begin with a box that lists new skills taught in the lesson; lessons themselves are divided by days, with step-by-step instructions to the teacher explaining exactly what to do, what to read, and what to ask students. A list of materials you'll need for the lesson is also provided.
This course covers phonics, reading skills, grammar, creative writing, and higher-order thinking skills, as well as a quick review of first grade phonics and instruction in advanced phonics. The thinking, writing, and creative enrichment activities are ideal for the fluent reader and easily adaptable for the nonreader. Handwriting instruction teaches upper and lower-case letters, numbers, and punctuation. Review activities and assessments to evaluate progress are also integrated throughout.
The updated third edition of the Red Level features with three new readers/lessons that give your student more practice in mastering phonics. Please note that the 3rd and 2nd editions of the LLATL Red level are NOT compatible with each other.
Please note: the following resources are required in order to be able to use this curriculum:
Red Student Activity Book
The 6 Readers found in the Red Kit (which also includes this teacher's guide)

Please Note: The following books are used in this program, but are not required (all sold-separately): 
A Tree is Nice by Janice May Udry
Little Bear by Else Holmelund Minarik
The Bravest Dog Ever by Natalie Standiford
The Fire Cat by Esther Averill
The Ox-Cart Man by Donald Hall
Corduroy by Don Freeman
The Little Island by Golden MacDonald
Billy and Blaze by C.W. Anderson
Harry the Dirty Dog by Gene Zion
Abraham Lincoln by Ingri and Edgar d'Aula
Age Level = 7-8
Book Author = Debbie Strayer
Book Material = Paperback
Book Publisher = Common Sense Press
Book Series = LLATL
Copyright = c2017
Edition = 3rd
Grade Level = 2
Item Number:
50-18
Item ID:
15491
Category:
Red Book TE 3rd