---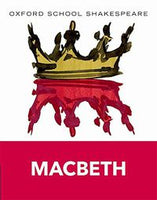 Sale
Macbeth: Oxford School Shakespeare 
The Oxford School Shakespeare is a well-established series which helps student understand and enjoy Shakespeare's plays. 
As well as the complete and unabridged text, each play in this series has an extensive range of notes.  These include detailed explanations of difficult words and passages, a synopsis of the plot and summaries of individual scenes, and notes on the main characters.  
There are also illustrations and photographs to enhance understanding, a background information on Shakespeare's England, suggestions for further reading, a brief biography of Shakespeare, ad a complete list of his plays. 
Age Level = 14 and up
Book Author = William Shakespeare
Book Material = Paperback
Book Publisher = Oxford University Press
Copyright = c1977
Grade Level = High School
Condition = New



Item Number:
36-425
Item ID:
41168
Category:
Shakespeare