---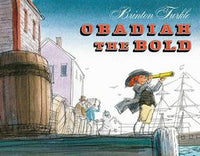 Sale
Obadiah the Bold
Obadiah has decided to become a fearless pirate when he grows up—to roam the seas with buried treasure in secret places! But the gift of an heirloom telescope and a gentle lesson from his father on true bravery give Obadiah an entirely new perspective on courage. Brinton Turkle's warm and engaging watercolors suit the text perfectly.

The charming adventures of Obadiah Starbuck have been beloved by children and adults alike since he first captured hearts in the story of his friendship with an injured seagull in Thy Friend, Obadiah, winner of the Caldecott Honor. The days of Clipper ships and Whalers in the quaint colonial village of Nantucket form the backdrop to these heartwarming tales of a Quaker family and the often rambunctious but always delightful Obadiah.

Beautiful Feet Books, in cooperation with The Eric Carle Museum of Picture Book Art and Brinton Turkle's grown children--Matilda Rubin, and Haynes and Jonathan Turkle--are delighted to present these new 2018 editions of the Obadiah books for the next generation of readers. Working with Mr. Turkle's original charcoal and watercolor paintings, we have endeavored to restore the integrity, clarity, and beauty of the artist's work. 
Age Level = Early Elementary
Book Author = Brinton Turkle
Book Material = Paperback
Book Publisher = Beautiful Feet Bks
Book Series = Teaching Character
Copyright = c2018
Grade Level = Primary



Item Number:
55-34
Item ID:
21322
Category:
Obadiah the Bold