---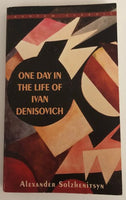 One Day in the Life of Ivan Denisovich
In the madness of World War II, a dutiful Russian soldier is wrongfully convicted of treason and sentenced to ten years in a Siberian labor camp. So begins this masterpiece of modern Russian fiction, a harrowing account of a man who has conceded to all things evil with dignity and strength.
First published in 1962, 
One Day in the Life of Ivan Denisovich
 is considered one of the most significant works ever to emerge from Soviet Russia. Illuminating a dark chapter in Russian history, it is at once a graphic picture of work camp life and a moving tribute to man's will to prevail over relentless dehumanization.
Age Level = 14 and up
Book Author = Alexander Solzhenitsyn
Book Material = Paperback
Book Publisher = Bantam Classics
Copyright = c1963
Edition = 2005
Grade Level = High School
Item ID:
23985
Category:
Russian History