---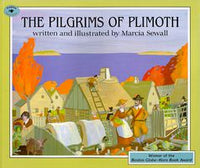 The Pilgrims of Plimoth
Aye, Governor Bradford calls us pilgrims. We are English and England was our home...But our lives were ruled by King James, and for many years it seemed as though our very hearts were in prison in England...
September, 1620, our lives changed. We were seventy menfolk and womenfolk, thirty-two good children, a handful of cocks and hens, and two dogs, gathered together on a dock in Plymouth, England, ready to set sail for America in a small ship called the Mayflower...

After an abundance of prayers and tears we made farewells at dockside and boarded our small ship. Our voyage across the Atlantic Ocean "began with a prosperous wind," but the sea soon became "sharp and violent" and storms howled about us.

When the pilgrims set out for America, they brought with them a dream for the future. Sickness, hardship, and heartache stood in the way of that dream. But the pilgrims worked hard, keeping their dream close to their hearts, until they were finally able to make it come true. 
Age Level = 4 and up
Book Author = Marcia Sewall
Book Material = Paperback
Book Publisher = Aladdin
Copyright = c1986
Edition = 1996
Grade Level = Primary



Item Number:
58-11
Item ID:
24189
Category:
Pilgrims of Plimoth