---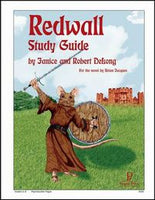 Sale
Redwall Study Guide
It is the summer of the late rose in Mossflower Woods. As the animals gather at Redwall Abbey to feast in celebration of Abbot Mortimer's Golden Jubilee, the dark clouds of war gather on the horizon. The evil, one-eyed rat, Cluny the Scourge, and his band of marauders have arrived in Mossflower country. Securing the church of St. Ninian's as his base of operations, Cluny seeks to conquer Redwall Abbey and take it as his own. Preparing the residents of Redwall to face this cruel rodent of legendary fame and his henchrats are Abbot Mortimer, the religious leader of the abbey; Constance, a fierce and battle-wise badger; and Matthias, an eager but clumsy and unsure mouse, as yet untried in battle.

Rising to a position of leadership, Matthias finds inspiration and encouragement in the tale of Martin the Warrior, in the wise counsel of Abbot Mortimer, in the battle skill of Constance the badger, and in the admiration of Cornflower, a young female mouse. The survival of Redwall Abbey will touch not only the inhabitants within its stronghold, but also the fate of hundreds of citizens living far beyond its walls. Author Brian Jacques captures all the evil of the villains and heroism of the noble defenders in this epic animal fantasy.

Through Brian Jacques beloved fantasy, students will learn:

About the Author: Learn about Brian Jacques.

Series Background

Vocabulary words used throughout the novel, utilizing a variety of activities to stimulate retention and growth.

Literary Techniques: Description, foreshadow, dialect, empathy, foil, paraphrase, comic relief, paradox, simile, acrostic, mood, idioms, in context, symbolism, paradox, cliff-hanger, irony, plot, conflict, complications, climax, resolution, point of view.

Moral Lessons and Character Values:  Admirable qualities, leadership, pride, teamwork, cooperation, promises, self-control, wisdom, talents, reap what we sow, God knows us, armor of God, advice.

Activities and Writing Assignments:  Fantasy, map, cooking, animals, architecture, art, crafting, flags, newspaper,  democracy, service project.

Suggestions for Further Reading:  We include a wonderful reading list of more books by the same author(s) and other books that tie in with, or are similar to, Redwall by Brian Jacques.

All of the unit lessons are written from a Christian worldview! 
Age Level = 10-15
Book Author = Janice and Robert Delong
Book Material = Paperback
Book Publisher = Progeny Press
Copyright = c2003
Grade Level = 5-9
Condition = New



Item Number:
453-65
Item ID:
36270
Category:
Progeny Press