---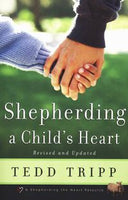 Shepherding a Child's Heart
Shepherding a Child's Heart is about how to speak to the heart of your child. The things your child does and says flows from the heart. Luke 6:45 puts it this way. "... out of the overflow of the heart the mouth speaks." (NIV) Written for parents with children of any age, this insightful book provides perspectives and procedures for shepherding your child's heart into the paths of life. 
Age Level = Adult
Book Author = Ted Tripp
Book Material = Paperback
Book Publisher = Shepherd Press
Copyright = c1995
Edition = 2nd
Grade Level = Adult



Item Number:
36-267
Item ID:
29279
Category:
Shepherding a Child's ...