---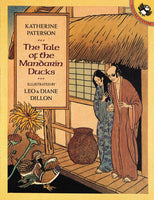 Sale
The Tale of the Mandarin Ducks
Wrtitten by Newbery Medalist Katherine Paterson with painting by Caldecott winning illustrators Leo and Diane Dillon

A beautiful mandarin duck is captured and caged by a greedy lord who wants to show off the bird's magnificent plumage. But the wild creature pines for his mate. When Yasuko, the kitchen maid, releases the bird against her lord's command, she and the one-eyed servant, Shozo, are sentenced to death. The grateful bird intends to return their kindness, but can he outsmart the cruel lord?


Winner of the Boston Globe/Horn Book Award for Illustration, and a New York Times Best Illustrated Children's Book of the Year. 
Age Level = 4 and up
Book Author = Katherine Paterson
Book Material = Paperback
Book Publisher = Puffin
Book Series = Picture Puffin
Grade Level = Primary



Item Number:
26-18
Item ID:
22350
Category:
Tale Mandarin Ducks