---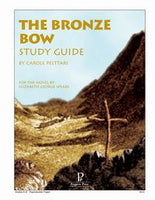 Sale
The Bronze Bow Study Guide 
Angry and vengeful at the death of his parents, Daniel bar Jamin joins an outlaw Zealot band pledging to all he can to rid the land of the hated Romans. Daniel's meets Joel and Malthace, two young people with a similar desire to see their land free of the Romans. The three of them make a pact to fight together for God's victory.

Then Daniel learns his grandmother has died and finds he must leave the mountain to care for his sister, Leah. He is torn between the responsibility he feels toward his sister and his hatred against the Romans. To support himself and his sister, Daniel takes over a blacksmith shop belonging to his friend, Simon, who has left town to follow a traveling teacher named Jesus.

Daniel begins to wonder if Jesus is the leader they have all been hoping for, the one who will lead them against the Romans. But Jesus is teaching a very different message from the one Daniel wants to hear.

Through Elizabeth George Speare's vivid story, students will learn:

About the Author: Learn about Elizabeth George Speare.

Background Information: 300 B.C. Israel and Rome.

Vocabulary words used throughout the novel, utilizing a variety of activities to stimulate retention and growth.

Literary Techniques:  Characterization, compare and contrast, in context, setting, foreshadow, conflict, protagonist, mood, dictionary, theme, symbolism.

Moral Lessons and Character Values: Pharisees, Messiah, Jesus, God's help, fear, Good Samaritan, sacrifice, love your enemies.

Activities and Writing Assignments: Mapping, history, Jews, Old Testament, crossword, Roman slaves, writing, speech, epilogue.

Suggestions for Further Reading:  We include a wonderful reading list of more books by the same author(s) and other books that tie in with, or are similar to, The Bronze Bow by Elizabeth George Speare.

All of the unit lessons are written from a Christian worldview! 
Age Level = 12 and up
Book Author = Carole Pelttari
Book Material = Paperback
Book Publisher = Progeny Press
Copyright = c1996
Grade Level = 6-8



Item Number:
453-15
Item ID:
18291
Category:
Progeny Press