---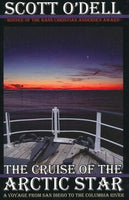 Sale
The Cruise of the Arctic Circle
Take a voyage up the length of the California coast in a cruiser named Arctic Star!

Along the way, the author relates the colorful narratives of California's history through the stories of men and women like Cabrillo, Viscaino, Junipero Serra, Kate Sessions, Kit Carson, Jedediah Smith and many more. Drawing from journals of other notable visitors like Richard Henry Dana, Robert Louis Stevenson, and Sir Francis Drake, readers are given a window into life in California hundreds of years ago.

O'Dell offers readers dramatic incidents seldom featured in text books on California history - like the worst peacetime disaster in the history of the United States Navy that occurred in the treacherous Jaws of the Devil near Point Conception. Readers will delight in the story of Jedediah Strong Smith's wrestling with a grizzly and the wilderness friend who stitched his ear and face back together - with no anesthesia, of course!

Pirates have to play a part in a land so rich in coastline - and they do, with buried treasure on a Southern California isle known as Dead Man's Island. The stories of the discoverers, explorers and settlers of California have never been drawn so delightfully as they are here. With his love of his native state, his knowledge of the landscape, sea life, and historical past of this region, O'Dells work continues to stand as an important contribution to the rich literature of the Golden State. 
Age Level = 14 and up
Book Author = Scott O' Dell
Book Material = Paperback
Book Publisher = Beautiful Feet Bks
Book Series = California History
Copyright = c2008
Grade Level = Intermediate



Item Number:
55-38
Item ID:
21326
Category:
Scott O'Dell