---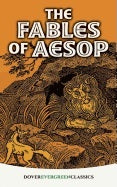 Sale
The Fables of Aesop 
The gods help them that help themselves . . . We would often be sorry if our wishes were gratified . . . Appearances are deceptive . . . These and many other familiar proverbs — in fact, many of the moral values that form the foundation of our daily lives — were expressed in tales from ancient Greece, credited to Aesop, the legendary storyteller.
This volume, edited by the celebrated English folklorist Joseph Jacobs, contains a rich selection of these time-honored tales, among them "The Town Mouse and the Country Mouse," "The Fox and the Crow," "The Lion and the Mouse," "The Wolf in Sheep's Clothing," "The Goose with the Golden Eggs," "The Old Man and Death," "Belling the Cat," "The Hare and the Tortoise," and dozens more.
Retold with wit and sparkle in simple, direct language, these short, clever stories offer young readers wonderful lessons in right and wrong, and many valuable insights into life, both its joys and perils. Over 170 classic illustrations by Richard Heighway bring the stories vividly to life for readers and listeners alike.

Reprint of the edition published by Macmillan, London, 1894. 
Age Level = 8 and up
Book Author = Joseph Jacobs
Book Material = Paperback
Book Publisher = Dover Publications
Copyright = c2002
Grade Level = Elementary



Item Number:
365-47
Item ID:
23269
Category:
Fables