---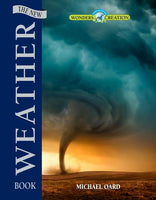 Sale
The New Weather Book
Calama, Chile in the Atacama Desert is one of the driest places on Earth and didn't have a drop of rain from 1570 until 1971. That's over 400 years without rain!
Find out how forecasting is done, what "engine" drives weather on Earth, and why
Discover the importance and patterns of the jet stream, the global water cycle, and why water runoff is essential to the food chain
Learn the classifications of clouds, what causes ball lightning, the life cycle of thunderstorms, and amazing weather facts!
Age Level = 10 and up
Book Material = Hardback
Book Publisher = Master Books
Book Series = Wonders of Creation
Copyright = c1997
Edition = 2015
Grade Level = 6 and up



Item Number:
29-145
Item ID:
23373
Category:
Wonders of Creation