---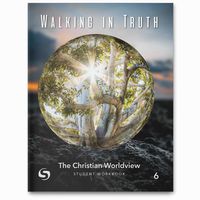 Walking in Truth: The Christian Worldview Student Workbook
6th Grade ' The Christian Worldview
The worldview portion of this curriculum covers Christian answers to the big questions about God, the universe, human beings, truth, and morality. The Bible survey component focuses on the book of Acts.
Key topics covered include:

Creation and the Fall
Covenants
Monotheism
Omnipotence, omnipresence, and omniscience
Revelation, theism, truth, and worldview
Each student will need this student workbook and student textbook. Textbooks can be found here.
Age Level = 11-14
Book Author = John Hay
Book Material = Paperback
Book Publisher = Summit Ministries
Book Series = Walking in Truth
Copyright = c2018
Grade Level = 6-8



Item Number:
74-2
Item ID:
39551
Category:
Grade 6