---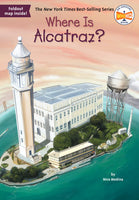 Where is Alcatraz?
Which of these facts are true?
It was the most famous prison in the United States
It was once the home of Al Capone
In an escape attempt, a prisoner made rafts out of raincoats and cut through a stone wall—with spoons!

Escape from the ordinary and break into Alcatraz, America's most famous prison!

The island of Alcatraz has always been a place that's fascinated visitors, from the Native American tribes who believed it was home to evil spirits to the Spanish explorers who discovered the island. In modern times, it was a federal prison for only 29 years, but now draws over a million visitors each year. Learn the history of America's most famous prison, from its initial construction as a fort in the 1800s, to its most famous residents such as Al Capone and "Machine Gun" Kelly. Where Is Alcatraz? also chronicles some of the most exciting escape attempts—even one that involved chipping through stone with spoons and constructing rafts out of raincoats!
 
Age Level = 8 and up
Book Author = Nico Medina
Book Material = Paperback
Book Publisher = Penguin Workshop
Book Series = Who Was Series
Copyright = c2016
Grade Level = Elementary
Illustrator = David Groff



Item Number:
26-106
Item ID:
29419
Category:
Where Is?